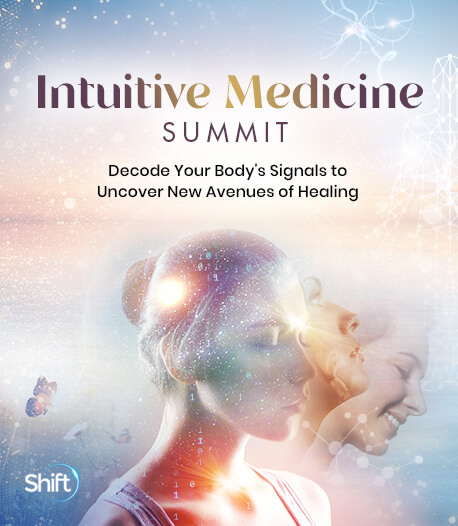 Program & Replays

Intuitive Medicine: Getting to the Heart of the Matter
Broadcast on July 29, 2022
With Dr. Gail Jett, RN, FNP, LMT, EEM-AP
Hosted by Lisa Bonnice
This talk will examine the role of the heart in intuitive knowing, as well as ways we can improve our intuitive skills. Dr. Gail Jett teaches us many ancient traditions, as well as some modern scientific contributions, that support the notion of the heart as the seat of intuition. The heart thinks, feels, and remembers. This talk will help improve our understanding of how this happens.
In this session, you'll discover:
Heart disease is the leading cause of death in the United States and increasingly in other industrialized nations. Why? An Eastern, Western, and Intuitive Perspective
The Eastern view (TCM) holds that strong emotions can interfere with heart function and the flow of Qi
How to know which time of day is least stressful to watch the news
The opinions expressed here are those of the author/presenter and are not representative of Shift Network employees, customers, or other presenters.
Love this Speaker and What They Have to Say?
It can be yours to keep... forever.
Get lifetime access to the summit and bonus material by upgrading now!
UPGRADE HERE
Dr. Gail Jett, RN, FNP, LMT, EEM-AP
Advanced Energy Healing Practitioner, Nurse Practitioner, Massage Therapist
Dr. Gail Jett, an advanced practitioner of Eden Energy Medicine, received her ordination and her doctorate of theology in pastoral integrative health from Holos University Graduate Seminary. A board-certified advanced holistic nurse, Gail's professional background includes a 42-year career working as an RN, family nurse practitioner, and women's health nurse practitioner. 
She is a licensed massage therapist, certified practitioner of HeartMath, biofield tuning, Bio-Well, and Reiki master teacher, and serves on the faculty of the Eden Energy Medicine certification program. She has a private practice in Bend, Oregon, dedicated to helping others discover their innate self-healing abilities through energy modalities.
A lifelong learner, and seeker of knowledge, Gail is passionate about discovering and sharing the latest scientific research supporting energy healing modalities and teaches courses in this field at the local community college. She believes it's imperative to share the scientific basis for the energy healing modalities and weaves her research findings into an improved understanding of their function and utility. 
Our healthcare system is in crisis, and there has never been a better time to share the gifts the ancient practices have taught us, so people can apply them to their current healthcare practices.