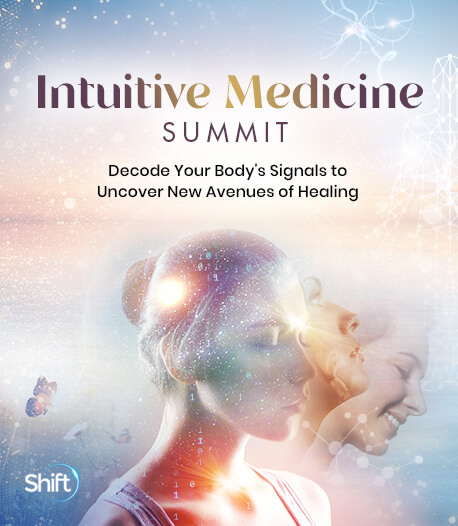 Program & Replays

Your Body Will Show You the Way: Navigating Awakening and Change
Broadcast on July 27, 2022
With Ellen Meredith
Hosted by Lisa Bonnice
In a world rocked by change, how can you evolve your energies to support both personal and planetary wellbeing? Ellen Meredith teaches you how to use energy medicine to build stability and work from the inside out to awaken your built-in guidance system.
In this session, you'll discover:
In this time of great upheaval and change we are each being asked to wake up and live differently, in ways that are sustainable
With this global shift, we need to learn to assess our reality from the inside-out, from the perspective of our wiser self
Inner guidance is more than a "voice," it can show you how to thrive as a body, mind, and spirit co-creating life on earth
The opinions expressed here are those of the author/presenter and are not representative of Shift Network employees, customers, or other presenters.
Love this Speaker and What They Have to Say?
It can be yours to keep... forever.
Get lifetime access to the summit and bonus material by upgrading now!
UPGRADE HERE
Ellen Meredith
Medical Intuitive, Energy Medicine Teacher, Author & Conscious Channel
Ellen Meredith, Doctor of Arts, is a conscious channel, medical intuitive, energy medicine practitioner, teacher, and author. She has been in practice since 1984, helping over 10,000 clients and students across the globe communicate with their own energies, hear their inner guidance, and heal.
Ellen is renowned for her down-to-earth, yet out-of-the box thinking. Originally trained as a healer by her inner teachers (Councils), Ellen later became an Eden Energy Medicine Advanced Practitioner (EEM-AP) and is an emeritus member of Donna Eden's faculty.
Ellen brings humanity, humor, and insight in many forms to the world of energy healing. Her approach to self-healing with energy medicine offers students tools that help them get to the heart of their health and life challenges, and work compassionately with their body, mind, and spirit. She builds on everyday experiences and commonsense frameworks, believing that life reveals more of its meaning if you treat it as an evolving story, and see yourself as a unique character helping to co-create it.
Ellen is the author of The Language Your Body Speaks: Self-Healing with Energy Medicine... Listening In: Dialogues with the Wiser Self (channeled book)... In Search of Radiance: Learning to Stand with Your Wiser Self (channeled class audiobook)... and the soon-to-be-published book, Your Body Will Show You the Way: Energy Medicine for Personal and Global Change.