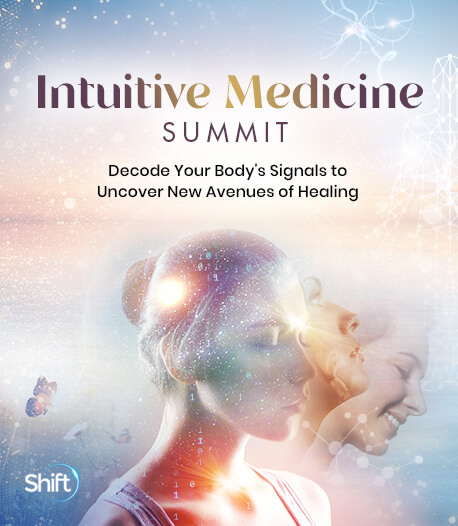 Program & Replays

Heal Thyself: How to Use the Four Types of Intuition to Restore Wellbeing to Your Body, Mind, Heart & Spirit
Broadcast on July 28, 2022
With Kim Chestney
Hosted by Marie Manuchehri, RN
Kim Chestney's workshop guides you through the four types of intuition and how to use them to energetically attune the whole of your being. She shares simple practices to intuitively release, rebalance and revitalize your energy system — so you can recognize "the purpose in the pain" and activate the full healing power within you.
In this session, you'll discover:
The 4 types of intuition and how you can use them to heal yourself
The meaningful, energetic origin of your physical imbalances
How to intuitively unblock and release unconscious barriers to your wellbeing
The opinions expressed here are those of the author/presenter and are not representative of Shift Network employees, customers, or other presenters.
Love this Speaker and What They Have to Say?
It can be yours to keep... forever.
Get lifetime access to the summit and bonus material by upgrading now!
UPGRADE HERE
Kim Chestney
Author of Radical Intuition & Founder of IntuitionLab
Kim Chestney is a globally recognized intuition author, teacher, and speaker whose work empowers people to live extraordinary lives by expanding intuition and harnessing the innate inner power that is driving the future of human cognition, cultural progress, and the expansion of consciousness.
Her books Radical Intuition: A Revolutionary Guide to Using Your Inner Power and The Psychic Workshop: A Complete Program for Fulfilling Your Spiritual Potential have been translated into multiple languages and published around the world since 2004. In 2017, Kim founded IntuitionLab, an international school dedicated to teaching a practical, integrated approach to awakening and attuning humanity's innate intuitive nature.
Kim spent nearly two decades working as a leader in the tech sector, collaborating with leading-edge organizations, universities, and technology companies including Carnegie Mellon University, SXSW Interactive, Uber, AT&T, Comcast, Chapman University, and the University of Toronto. Her pioneering work has been featured by ABC News, Coast to Coast AM, Spirituality & Health, Mantra Wellness, Energy Medicine Magazine, OM Times, The Aware Show, New World Library, Omega Institute, and Simon & Shuster.