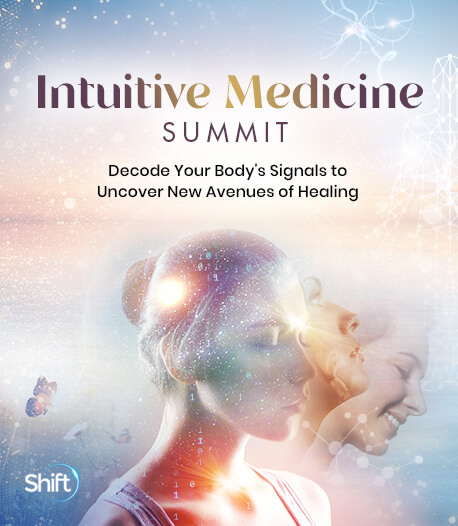 Program & Replays

Earth Evolution & Intuitive Medicine
Broadcast on July 29, 2022
With Aki Hirata Baker & Manu Del Prete
Hosted by Lisa Bonnice
We received 3 symbols for energy healing through a mediumship session in 2018. It was revealed to us these sessions are given for our evolutionary process, and most of it pertains to the evolution of our multidimensional perceptual ability to bring wisdom from different realms into our 3-dimensional reality.
In this session, you'll discover:
How energy healing relates to your intuition development
How energy healing (or healing in general) is decolonizing - and how decolonizing helps us to tap into our intuitive medicine in embodied ways
What Earth Evolution Reiki is, and how it helps humanity tap into our expansive potential
The opinions expressed here are those of the author/presenter and are not representative of Shift Network employees, customers, or other presenters.
Love this Speaker and What They Have to Say?
It can be yours to keep... forever.
Get lifetime access to the summit and bonus material by upgrading now!
UPGRADE HERE
Aki Hirata Baker
Founder of MINKA brooklyn, Teacher and Healing Facilitator for Soul Liberation
Aki Hirata Baker is a multi-modality healing facilitator, teacher, and speaker, whose work is based on the anti-racist spiritual liberation principle. An immigrant from Japan who's currently based in Brooklyn, New York, Aki has devoted her life to studies of mysticism, philosophy, healing modalities, and liberation principles. She is a space holder, healing practitioner and teacher, community organizer, and mother to many. She is a founder of MINKA Brooklyn, a collectively run healing space that centers on the work of undoing all forms of social oppression through healing and an un-capitalistic approach to business. She is a dreamer of the beautiful future we dare to dream for ourselves.
Manu Del Prete
Teacher of Mystical Arts
Manu River Del Prete is one of Minka's Reiki godmothers. As an energy healing teacher, psychic ability coach, past life regression facilitator, and Feng Shui & space clearing practitioner, she has devoted over three decades to exploring these boundaries. Through her teaching, coaching, and comprehensive practice, from medical intuition to life alignment or shifting, Manu integrates psychic, physical, and metaphysical energies. She assists her clients to experience an awareness that they already possess, by which greater health and wellbeing can be achieved. Born and raised in Italy, Manu's family origins fostered her psychic gifts, but it wasn't until her own "dark night of the soul" that she began her focused study to develop those gifts. Following her arrival in the U.S., she continued her studies with different teachers and integrated different approaches into her vision and methods. Manu focuses on each individual's needs, drawing upon the energetic human field and consciousness, and the unique spiritual or epistemological connections. She draws on a lifetime of work across the spectrum of perception, connecting the healing arts with the metaphysical arts, and the philosophy of ancient cultures with quantum physics which is one and the same.