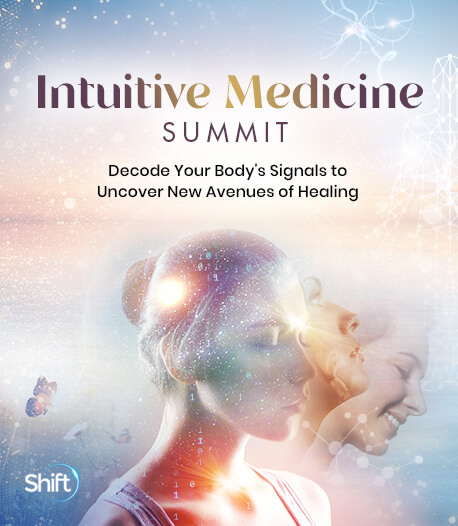 Program & Replays

Welcome Message From Your Series Host
With Lisa Bonnice
Welcome to the Intuitive Medicine Summit series. I'm Lisa Bonnice, your host, and I'm so glad you've decided to join us, because there's a lot of great information just waiting for you to tap into.

We'll talk to some of The Shift Network's favorite experts and introduce you to some new names and faces, all of whom offer their expertise and words of wisdom on the topic of intuition and health, helping us to explore ways to participate in our own healing.

Each series has a flavor of its own and this year's Intuitive Medicine Summit series tastes like this: deep healing. We've been through the grinder these past few years and a lot of us are pretty raw, and a lot of us are looking for help to put our lives back together and feel better. That's the undercurrent of this series. It's definitely what I experienced, and those of you who watch these sessions may feel a similar type of healing.
For example, this year I talked with Marie Manuchehri about accessing help from the "other side" to solve health issues, and Dr. Keesha Ewers about the link between childhood trauma, intuitive abilities, and adult illness.
I also spoke with Dr. Titus Chiu about vagus nerve activation to unlock your intuition, creativity, and healing.
I also hosted a panel discussion with the founders of the National Organization for Medical Intuition (NOMI): Wendie Colter, Dr. Tiffany Barsotti, Cay Randall-May, Dr. Maria Gentile, and Elizabeth Thorson about their dedication to the advancement of professional medical intuition — and their vision of a world where medical intuitive practitioners are accepted in clinical healthcare as well as in private practice.
Tina Zion shares wisdom about tapping into your own intuitive abilities to help yourself and others, and Dayna Macy offers helpful advice about listening to your body's signals with regard to overeating and which foods will best serve its optimum functioning.
Masami Covey talks with me about burnout and compassion fatigue and how these don't have to be viewed as negatives — they may actually be our intuition trying to tell us something!
Being immersed in the conversations in this series is life-changing. Even if you think you know a thing or two about intuitive medicine, there's always more to learn, and more stories to hear, more mysteries to solve.
So… if you suffer from unexplainable lack of wellness, or can't find a medical practitioner to work with you... if you've thrown up your hands in dismay at ever finding wellness in this lifetime, this series is for you.
I'm so looking forward to sharing these conversations with you.
See you there...
Lisa Bonnice
Program Host at The Shift Network and Award-Winning Author
Lisa Bonnice is an award-winning writer and humorist. She received two excellence awards from MSNBC.com during her tenure there as a news writer/associate producer. She also traveled the country as a stand-up comedienne, working with the likes of Tim Allen and Steve Harvey.
She has hosted numerous summits for The Shift Network, including the Ancestral Healing Summit, Beyond the Veil Summit, and Intuitive Medicine Summit. Lisa also co-created the "Generations Oracle" kit with Carrie Paris.
Her first book, Shape Shifting: The Body/Mind/Spirit Weight Solution, includes a foreword by Neale Donald Walsch, with whom she worked within the organization he founded, Humanity's Team, as regional director for the entire southern portion of the United States. Her true crime novel, Fear of Our Father, was twice featured on the Investigation Discovery network. Her newest novel, a metaphysical comedy called The Poppet Master, includes a foreword by Marc Allen, publisher at New World Library (and the man who discovered Eckhart Tolle).
Lisa hosted her own podcast, Shape Shifting, on BlogTalkRadio, featuring such guests as Lynne McTaggart, Edgar Mitchell, and Neale Donald Walsch. She has been a program host with The Shift Network for over five years, where she has interviewed luminaries such as Gregg Braden, Anita Moorjani, and Thomas Hübl. She also hosted an online chat show, Mind Yourself, where she interviewed experts in human transformation.
Her current writing project, based on actual events found in her family tree, spurred Lisa into her almost obsessive interest in ancestral healing. While doing genealogy research, she discovered an ancient witch trial and generational curse, which explained an awful lot about unusual patterns and illnesses in her life and those of her family. This writing project, tentatively titled The Maxwell Curse, tells how ancestral legacies can ripple across time for centuries, leaving havoc in their wake. Lisa feels that it's her life's work to heal that curse by working with her ancestors, and sharing with others how they too can break the ties that bind them to their own families' past histories.